It is gameweek five of the NFL calendar and the stakes could not have been higher. While some teams have already hit top gear and are taking the league by storm, others are still trying to find their feet and trying different combinations and playstyles. As for us neutrals, it will be a treat to sit back and watch the drama unfold.
Another thing that will be in the head of many coaches will be that this week's games could be pivotal for many outfits. Teams like the Detroit Lions will be desperate for a win in order to resurrect their campaign and will stop at nothing to achieve that. While teams like the Carolina Panthers might try and give some game time to fringe players because of their superior record in the last four games.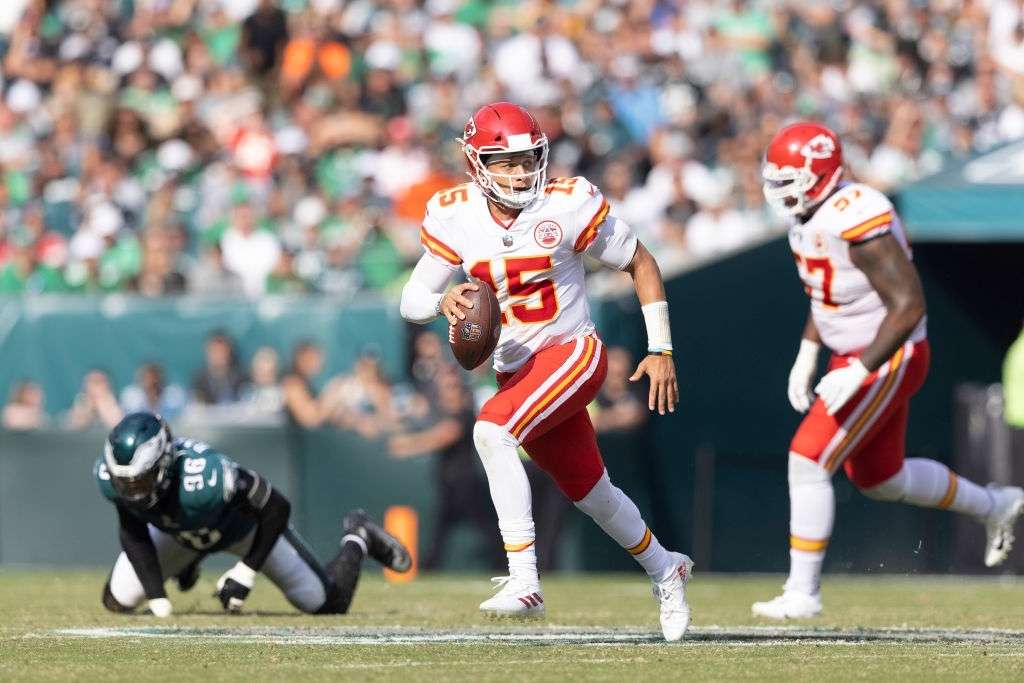 This week brings us a few of the most interesting fixtures of the season, the most notable of them being the Buffalo Bills vs Kansas City Chiefs game on Sunday night. This game could be a clear indication of how the AFC Championship game is going to unfold.
Fixture list of gameweek 5
Rams vs Seahawks
Jets vs Falcons
Saints vs Washington
Packers vs Bengals
Patriots vs Texans
Dolphins vs Buccaneers
Lions vs Vikings
Broncos vs Steelers
Eagles vs Panthers
Titans vs Jaguars
Browns vs Chargers
Bears vs Raiders
49ers vs Cardinals
Giants vs Cowboys
Bills vs Chiefs
Colts vs Ravens
Thursday Night Football
Los Angeles Rams vs Seattle Seahawks
With the home game advantage, the Seahawks could inflict a serious amount of damage on the Rams; and they need to. If they manage to win this game, the Seahawks will go level with LA and it would make qualification a whole lot easier for them. However, the Rams are a force to reckon with and wouldn't give away the game easily.
Predictions: Rams 24, Seahawks 27
Games on Sunday
New York Jets vs Atlanta Falcons
Playing a game at 6:30 in the morning is a bit odd in my opinion. Then again, there are a plethora of other factors at play here. Nevertheless, Zach Wilson and the Jets will look to win two in a row and steady their campaign for the time being. Moreover, the win against Titans must've given them the necessary amount of confidence to take down a faltering side in the Atlanta Falcons.
Predictions: Jets 32, Falcons 17
Detroit Lions vs Minnesota Vikings
A hapless side in the form of the Detroit Lions takes on the Minnesota Vikings this Sunday. Frankly, the scales could not have been skewed further in favor of the Vikings. The Lions have been hapless on both ends of the pitch and the problems don't seem to be going away anytime soon. Especially not in an away game.
Predictions: Lions 7, Vikings 25
New Orleans Saints vs Washington Football Team
After suffering an unexpected loss at the hands of the Giants, the New Orleans Saints will be looking forward to getting their campaign back on track when they take on the Washington Football Team. While the odds are heavily in favor of the Saints, WFT could cause another shock on Sunday morning.
Prediction: Saints 24, WFT 19
New England Patriots vs Houston Texans
After the ousting of Cam Newton, the Patriots have hit another gear in their quest for the playoffs and it is showing in their gameplay. Moreover, Young QB Mac Jones is thriving under the tutelage of Bill Belichick and looks destined for big things. Up against the Texans, I expect no surprises and a resounding victory for the Pats.
Prediction: Patriots 33, Texans 17
Miami Dolphins vs Tampa Bay Buccaneers
The Bucs managed to win their game against the Patriots in week 4. However, their style of play was stagnant and massively unconvincing. Tom Brady and co will have to work upon that through the week if they plan on taking down state-rivals Miami Dolphins.
Predictions: Bucs 27, Dolphins 24
Green Bay Packers vs Cincinnati Bengals
When you have a player of Aaron Rodgers' caliber in your ranks, every game becomes slightly easier. However, the Packers cannot depend only upon him to deliver a masterclass on Sunday. As for the Bengals, if they manage to eke out a win here, it would give them a load of confidence.
Predictions: Packers 42, Bengals 17
Denver Broncos vs Pittsburgh Steelers
The Denver Broncos have arguably been one of the most in-form sides this season. That is why stopping them is going to be a massive task for everyone, including the Pittsburgh Steelers. However, they might just be able to sneak away with a win this time around because it seems like Bridgewater has hit the mid-season rough patch already.
Predictions: Broncos 19, Steelers 17
Philadelphia Eagles vs Carolina Panthers
Few teams have been in better form than the Carolina Panthers this season, and that is due to how well the side functions as a team. Their style of play on both ends of the pitch has been nothing short of magnificent in these four games. However, I have a feeling that they will falter against the Eagles in this game and produce one of the shock defeats of this campaign.
Predictions: Eagles 33, Panthers 18
Tennessee Titans vs Jacksonville Jaguars
With both teams coming off of narrow defeats, this game could go right down to the wire. The Jaguars have a young and upcoming quarterback in Trevor Lawrence, who has a reputation of taking defenses apart by himself. However, he hasn't been able to hit that form of late and is faltering quite a bit. Here's hoping that he will come good on Sunday and deliver a resounding performance.
Predictions: Titans 20, Jaguars 30
Sunday Late Games
Cleveland Browns vs Los Angeles Chargers
This game has all the ingredients for it to become an intense attacking affair. Expect both sides to score a lot of point. Ultimately, the difference in this game might be the kind of defense both teams possess, and the Browns edge the Chargers in that aspect.
Predictions: Browns 36, Chargers 31
Chicago Bears vs Las Vegas Raiders
When the high-flying Raiders lock horns against the Bears on Sunday afternoon, sparks are bound to fly. It will be difficult for the Bears to cause an upset on the road, but there is an equal chance of the Raiders getting complacent after a blistering start to the season and letting the game slide.
Predictions: Bears 24, Raiders 29
San Francisco 49ers vs Arizona Cardinals
The Arizona Cardinals have played like a breath of fresh air under the new attack-only mindset of the NFL. However, they have let their defensive line suffer in the process. If they manage to figure out a way to execute on the back end of the pitch. Their chances of winning this game increase manifold.
Predictions: San Francisco 29, Cardinals 32
New York Giants vs Dallas Cowboys
The Dallas Cowboys, under the near-perfect performances of Dak Prescott, have played almost like a new team this season. However, the New York Giants will also be riding high on confidence after their win against the Saints last week.
Predictions: Giants 25, Cowboys 16
Buffalo Bills vs Kansas City Chiefs
This match will make the majority of all weekly highlights. Because of the amount of talent on both sides, it has become almost certain that this game will be a preview of the AFC Championship match. The likes of Patrick Mahomes and Josh Allen would be raring to go and perform in a game of this magnitude. When these sides take to the gridiron on Sunday, expect to see a lot of sparks.
When talking about such types of exciting games, you have to consider the hype surrounding it. With that hype comes the question, who's gonna win? Predicting the result of these matchups requires extensive analytical skill. We've got your back in that aspect. With the help of Sidelines, we've brought some of the best odds and picks of this game after conducting extensive research so that you don't lose your money.
Predictions: Bills 33, Chiefs 34