Ryan Fitzpatrick Wife Liza Fitzpatrick: All You Want to Know of Their Married Life, Kids, Wedding Ring & More
An amazing personality with a charming smile, a lush, full beard, a family man, and a guy who doesn't take his wedding ring off. Any woman in the world would want an ideal man like the Washington Football team's Quarterback, Ryan Fitzpatrick who is nothing short of that. As great as he is on the field throwing passes, he doesn't fall short at all when it comes to being a good father and a great husband.
It comes as no surprise that, Liza Barber chose him as her forever partner, who herself, just might be, the perfect woman any man can have the privilege to fall in love with. Ryan massively credits his success both on-field and off-field to his college sweetheart.
Ryan Fitzpatrick's Wife: Liza Fitzpatrick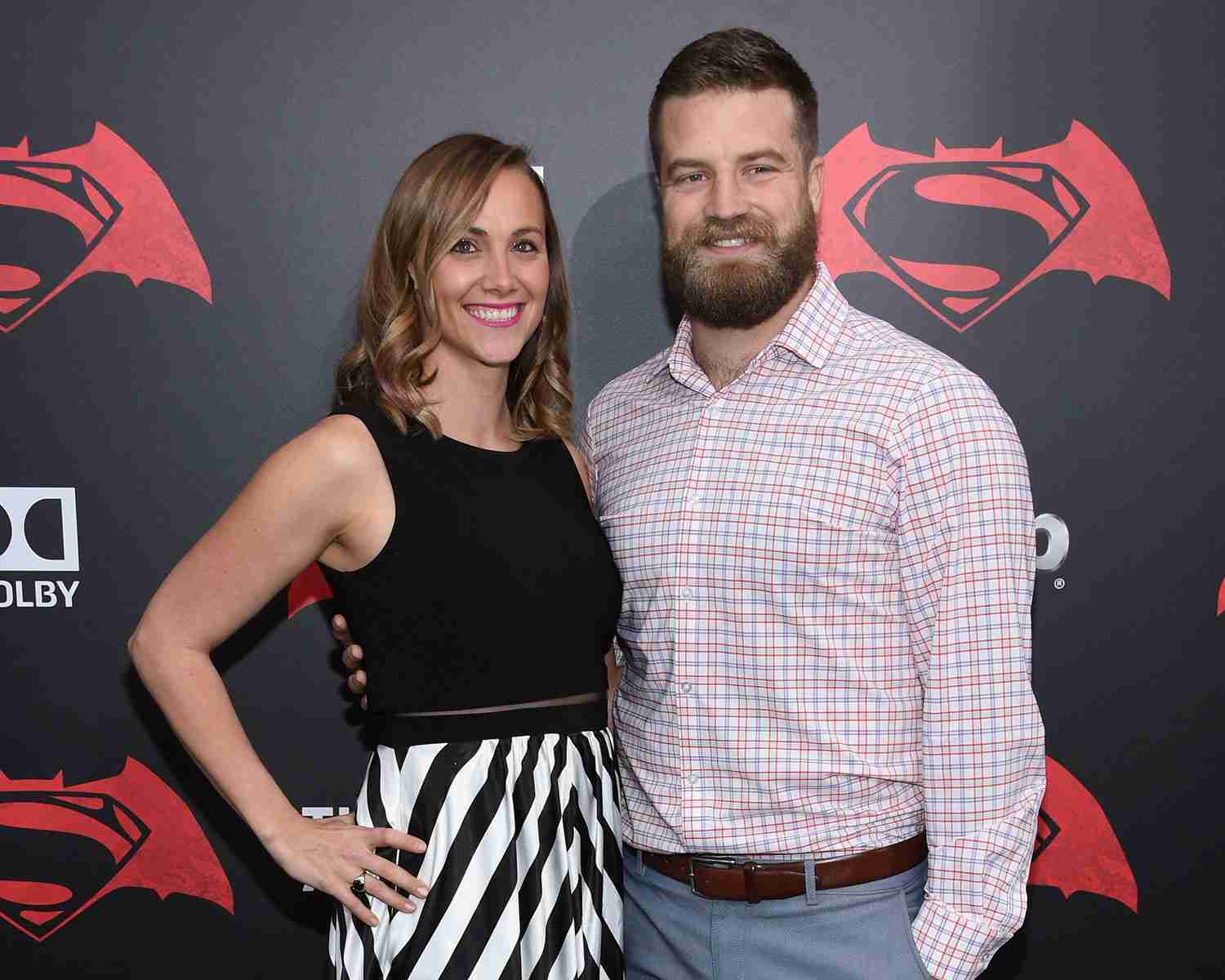 "You are born with either beauty or brains." Well, when it comes to Ryan Fitzpatrick's wife, Liza, this statement could not be any more further from the truth. The gorgeous supermom is blessed with all of the beauty genes that there is and has also graduated from one of the most prestigious universities in the world. What's more, is that she is also an ex-all American athlete!
Ryan Fitzpatrick Wife: Liza Fitzpatrick's Facts At A Glance
Full name: Liza Fitzpatrick.
Birth name: Liza Barber
Birthdate: Unknown
Age: Unknown
Height: Unknown
Weight: Unknown
Horoscope: Unknown
Birthplace: West Des Moines, Iowa, United States
Father's name: Unknown
Mother's name: Unknown
Siblings: Unknown
Nationality: American.
Ethnicity: White.
Religion: Christianity.
Education:
i) High school: Valley High School.
ii) College: Harvard University.
Profession: Housewife (probable).
Net worth: Twenty five million dollars.
Build: Slim.
Eye colour: Light Brown.
Hair colour: Brunette
Marital status: Married.
Spouse: Ryan Fitzpatrick.
Children: Four daughters and three sons.
Daughters:
i) Maizy Fitzpatrick.
ii) Ruby Fitzpatrick.
iii) Lucy Fitzpatrick.
iv) Zoey Fitzpatrick.
Sons:
i) Tate Fitzpatrick.
ii) Brady Fitzpatrick.
iii) Jake Fitzpatrick.
Famous as: Celebrity Wife; Wife of Ryan Fitzpatrick.
Tattoos: None.
Ryan Fitzpatrick Wife: Liza Fitzpatrick's Body Stats
Liza Fitzpatrick is a beautiful woman with an amazing personality. She has lush brown hair and light brown eyes. The ex-athlete has a slim build and, based on photos on the internet, she likes to keep herself fit. Apart from these, the information about her height, weight, and other measurements are yet to be revealed.
Ryan Fitzpatrick Wife: Liza Fitzpatrick's Early Life And Education 
Liza is a very private person and has not made a lot about her life known to the world. While a lot about her before she was married to Ryan remains a mystery, we do know that she was born and spent her childhood in the City of West Des Moines, Iowa, United States under the care of her parents. Liza never revealed the names of her parents nor did she mention if she' has any siblings.
Liza has always been a big soccer fan. She attended Valley High School and was a part of their soccer team. Her skills as a player earned her a scholarship to the prestigious Harvard University. Liza was a standout soccer player for the Crimson woman's soccer team for Harvard and was a captain during her senior year in 2004 anchoring the Harvard defensive unit. Barber was an All-American player before she graduated in 2005.
How Liza And Ryan Fitzpatrick Met?
After completing high school, Liza enrolled at Harvard University. There, she first met Ryan Fitzpatrick. The love for sports brought the two of them together and they started dating. They both graduated in the same year and moved in together, keeping their relationship private.
Liza And Ryan Fitzpatrick's Marriage 
While living together, the couple formed a joint bank account. Ryan said in an interview, that he bought the engagement ring from that very account and waited for the perfect opportunity to go down on one knee. He hid the ring in his car. However, on the very same day, all his plans went away when Liza had to pay for some stuff she bought at the local Gap store but her card got declined due to insufficient funds.
Before could she check her account details and find out about the ring, the Quarterback decided to break the ice. On the way home, they stopped at a McDonald's where he proposed to Liza while she was munching on chicken nuggets.
Liza and Ryan got married in November 2006 in a private ceremony and have been going strong for fourteen years now!
Ryan And Liza Never Take Their Wedding Ring Off
The quarterback has been seen wearing his wedding ring even when he is on the field. When asked about the same in an interview, Ryan mentioned that he and Liza have an unspoken agreement with each other not to take their wedding rings off in any situation and neither of them has any reason to take them off either.
How many kids do Ryan And Liza Fitzpatrick have?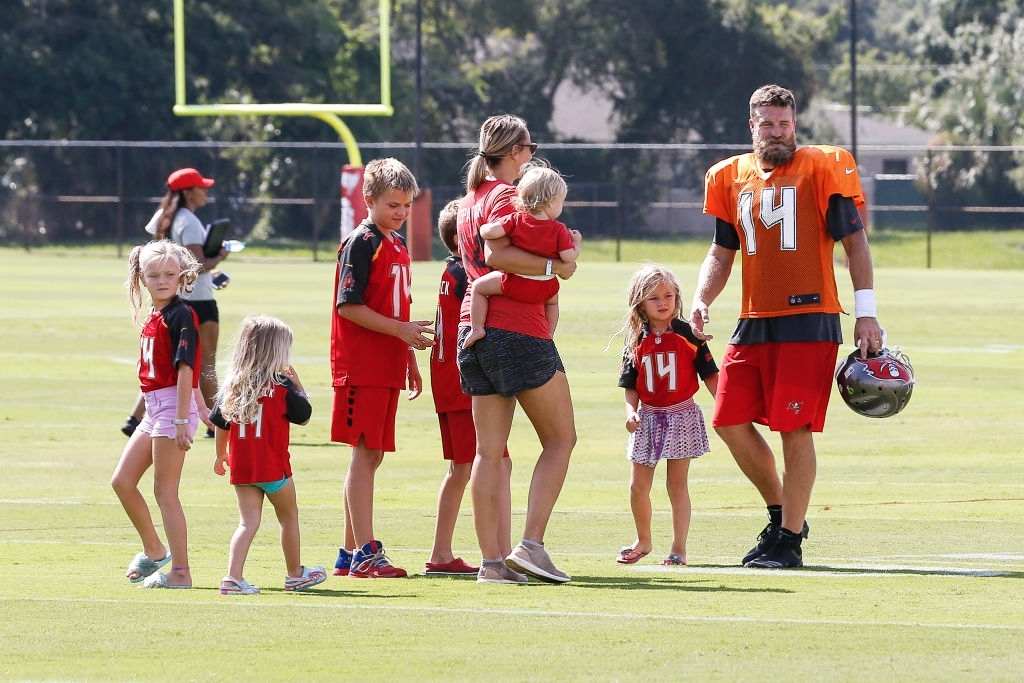 Liza and Ryan have a huge family consisting of four daughters and three sons. The eldest of them is Brady (12), followed by Tate (10), Lucy (8), Maizy (6), Zoey (4), Ruby (2), and Jake, who was born in January 2019.
The couple leads a very busy life meeting the needs of their seven children but never falls short.
Liza Fitzpatrick Drives A 12 Seater For Four Hours
Ryan said in an interview that his wife is his greatest supporter and she does not shy away to show that. The athlete's wife and children will sometimes fly to a game or what they consider even more fun, take the road.
"We have a big ol' Nissan NV, a 12-passenger van that basically is just a people mover that she'll drive back and forth." Ryan continues, "Seven kids on its own every day is amazing, but watching her walk through an airport with seven kids is pretty incredible as well. I know she could write a book."
The supermom drives seven children for more than four hours!
Ryan Fitzpatrick Wife: Liza Fitzpatrick's Career And Net Worth
Despite being the wife of a professional NFL player, Liza is a very private person and it remains a mystery as to what her career is. After graduating from Harvard University, she is known primarily as a celebrity wife. While there is a lack of evidence, it is most likely, that she is a housewife. As for her net worth, it is usually tied to her husband's income. It is speculated that she and Ryan are worth a whopping 25 million US dollars.
Ryan Fitzpatrick Wife: Liza Fitzpatrick's Social Media
The more secretive a person is, the more people are intrigued to get to know them. The same goes for Fitzpatrick's wife. Fans all over the world have tried to locate her on social media. However, Liza is not active on any social media platforms. Even if she has social media accounts, they are more likely to be private.
However, the only social media account that she has posted on in the past is a YouTube account by her own name. She has posted a very limited number of videos of her children on that channel.
The channel has four subscribers and six videos in total. The last video was posted nine months in August of last year.
Ryan Fitzpatrick's Career At A Glance
In college, Ryan started as a backup for Neil Rose and took over the starting job following Rose's graduation in 2003. He won the Ivy player of the year in 2004 along with the George H. "Bulger" Lowe Award. His professional career started with St. Louis Rams after they selected him in the seventh round of the 2005 NFL draft.
There onwards Ryan has played as the quarterback for eight times: Cincinnati Bengals (2007-8), Buffalo Bills (2009-12), Tennessee Titans (2013), Houston Texans (2014), New York Jets (2015-16), Tampa Bay Buccaneers (2017-18), Miami Dolphins (2019-20) and is currently the #14 quarterback for Washington Football Team with a one year contract he signed on the march of 2021.