When you talk about football, all the attention usually turns to the exciting goals that fans witness during a game. Whether you watched the game live at the stadium or on television, it is almost always the case that the forwards receive more praise than players in other positions.
It is for this particular reason that Cristiano Ronaldo and Lionel Messi are the two most celebrated footballers currently. Even when Virgil van Dijk beat both players to the European Footballer of the Year award, many football fans raised eyebrows.
For many years, forwards have been the ones to receive all the praise when a team wins, primarily because they are the ones whose names get on the scoresheet. However, those who truly pay attention to the game would know that there needs to be a creative force to set up the goals that strikers score.
You may argue that some strikers score solo goals, but how often does that happen? Even Messi and Ronaldo, who have scored more than a combined 1000 goals between them, needed assists to reach those impeccable numbers.
That is why the role of creative players has become important in recent years. Teams are always at an advantage when they boast midfielders who can control the ball well and also give the precise, defence-splitting passes.
In celebration of midfielders, we take a look at the best passers in football history:
#10 Cesc Fabregas
Spain international Cesc Fabregas is undoubtedly one of the best passers of the ball in football history. The 32-year-old has established himself as a reliable presence in the middle of the park and has demonstrated his artistic ability wherever he has played.
Fabregas had his passing ability from developing at Barcelona, after which he joined the Arsenal youth team. The Spaniard made his professional debut for the Gunners in the 2004/2005 season and has gone on to become a modern great.
Whether it was Arsenal, Barcelona or the Spain national team, the midfielder, in his prime, totally dominated play and his passing has never been in doubt. His numbers when it comes to assists are also phenomenal. Fabregas boasts great technique, ball control and vision and his abundant talent is the reason why he will retire having won league titles in Spain and England, the World Cup and the Euros.
#9 Mesut Ozil
Just like Fabregas, Mesut Ozil is also one of the most creative midfield enforcers in the world. The former Germany international may currently be struggling at Arsenal, but his legacy as a great passer will never be in doubt.
Ozil's rise to the top of football was very swift – from Schalke O4 in 2006 to Real Madrid in 2010, via Werder Bremen. While has was still a fledgling young midfielder in the Bundesliga, the 31- year-old took his game to another level when he joined Real Madrid.
Despite playing in Jose Mourinho's defensive unit, Ozil became the Blancos' main catalyst for goals, often setting up most of Cristiano Ronaldo's goals. At Arsenal, his creativity and passing ability brought three FA Cup titles, while he was also a key member of the Germany squad that won the World Cup in 2014.
#8 Andrea Pirlo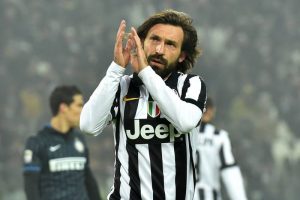 Talk about artistry in football and very few players come close to Andrea Pirlo. In a career that spanned over two decades, the midfielder won it all at club and international level. The FIFA World Cup, the Champions League, Serie A – he won them all.
However, it was his master performances in the middle of the park that endeared him to many football fans. Pirlo wasn't your ordinary midfielder – he had the ability and foresight to pick a pass from anywhere on the pitch.
The former Italy international could play short, long and through passes with perfection. Most importantly, his vision and quick thinking ensured that he always made those around him better. Even in the twilight of his career, Pirlo was by far the best midfielder in Italy until he departed Juventus to play in the Major League Soccer.
#7 Paul Scholes
England as a country has never been known to produce great passers of the ball… until a certain Paul Scholes surfaced. The diminutive midfielder was part of Manchester United's Class of '92 and became the soul of the Red Devils for more than two decades.
It is not for any reason that other midfielders rate him so highly in world football. Scholes' passing ability was completely out of this world and, in his prime, he could rip defences apart with a pass from his own half. This he did many, many times for England and Man United.
When Spanish maestro Xavi retired, the midfielder quickly pointed out that one of his regrets remains never playing with Scholes. Also in a 2011 interview, Xavi described the Englishman as "the best midfielder I have seen." Those words are self-explanatory.
#6 Johan Cruyff
You may have heard of Johan Cruyff's impact in bringing to life 'Total Football' at Ajax and Barcelona. Even before Pep Guardiola began to imprint his possessive football, Cryuff had already succeeded in implementing it, both as a player and as a coach.
The Dutchman is mostly remembered as a fantastic revolutionary manager, but tales of his playing days are rarely told. What many people do not know is that Cryuff was one of the best playmakers in the game during his playing days.
He had goals in him but his passing ability was also impeccable. Cryuff was the main driving force during Ajax's golden generation, leading the club to multiple Eredivisie titles as well as the European Cup. The Dutchman's philosophy has always been centered on great passing and he himself did it to perfection while was a player.
#5 Xavi Hernandez
Very few footballers can claim to boast the passing ability of Xavi Hernandez. In fact, despite all the respect accorded to the Spaniard, there are those who still believe his talents have not been appreciated enough.
The 39-year-old plays the same way as compatriot Andres Iniesta, but slightly edges his former Barcelona teammate when it comes passing from the back. While Iniesta loves to operate in an advanced role, Xavi is more of the type who dictates play from deep and also boasts the ability to pick out a teammate with a long pass.
It is unfortunate that the Champions League winner never won the Ballon d'Or, as he redefined passing whenever he donned the Spain and Barcelona jerseys. In helping La Roja win the World Cup in 2010, no team's midfield got the better of Xavi throughout the tournament. The Spaniard is well and truly a special talent.
#4 Roberto Baggio
For the sheer number of goals that Roberto Baggio scored in his career, many consider him as an out-and-out striker. However, the Italian often played as an attacking midfielder and never hesitated to exhibit his great passing ability.
Baggio is considered one of Italy's greatest players ever, not just because of his goals, but also because he mastered the art of creating them. His vision, creativity and accurate crossing meant he accrued many assists during his illustrious career.
He was a world class playmaker and he always came to the party in the big games. Despite his knack for goals, Baggio ended his career with an astonishing 123 assists in the Serie A. Michel Platini once described him as a "9 and half" due to his ability to score and also to pick out a teammate with the perfect pass.
#3 Lionel Messi
What else is there to say about Lionel Messi? The Barcelona star has done it all in football and continues to break record upon record. At this stage, the Argentine magician has become his own standard, as there is nothing more for him to prove.
For a player who has scored over 600 goals for club and country, it is very easy to dwell on just his goals. However, Messi is more than just a scorer. In fact, the 32-year-old boats great passing ability and does it with very little effort.
Messi does not only possess the vision to spot a teammate, he can actually locate his colleagues with the most precise pass you'd ever see. Last season, he scored more goals than any other player in Europe and, intriguingly, no player had more assists than him, too. You don't achieve such a feat when you are not a great passer. Now you understand why some believe the six-time FIFA Best Player is the greatest of all time.
#2 Michael Laudrup
Just like Lionel Messi and Roberto Baggio, Michael Laudrup wasn't just about scoring the goals. The Dane made his name with Lazio, Juventus, Barcelona and Real Madrid, and his great passing ability is one of the reasons why he succeeded at all the aforementioned clubs.
As an attacking midfielder, Laudrup was skillful and elegant in possession. He was so technically gifted that he could play across all positions in midfield, even occasionally being deployed as a deep-lying playmaker. It is no coincidence that Raul Gonzales described Laudrup as the greatest player he has played with.
Vision, good technique, balance and ball control – Laudrup had it all, and his ability to play a perfectly-weighted pass set him apart from others. He introduced the croqueta, a skill which involves moving the ball quickly from one foot to the other, before finding a teammate.
#1 Juan Roman Riquelme
Former Argentina international Juan Roman Riquelme is arguably the best passer of the ball in football history. The 41-year-old had a brief stint with Barcelona in the early 2000, but never really got the chance to play at another elite club.
This, however, does not negate his greatness at all. As an attacking midfielder, he possessed everything a team needed to break down stubborn defences. Talk of a deft touch, quick thinking, extraordinary passing ability and an eye for goal. Very few players really come close to Riquelme in this regard.
In his prime, Riquelme not only dazzled with his intelligent passing, he demonstrated grace, flair, and elegance anytime he was on the pitch. He read the game so well he always knew exactly when to anticipate, take an extra touch or two, before threading an outstanding pass. For his greatness, many consider the Argentine to be the 'last true no.10' in the game.