"WWE SmackDown" was previously considered as the B-show of WWE, but over the course of its 24-year existence, it has produced numerous unforgettable moments. As a result, Matt Hardy, who is a multi-time WWE Tag Team Champion, recently took some time to reminisce about some of his personal highlights from the blue brand. During an episode of "The Extreme Life of Matt Hardy," he was asked to name his favorite "SmackDown" match of his career.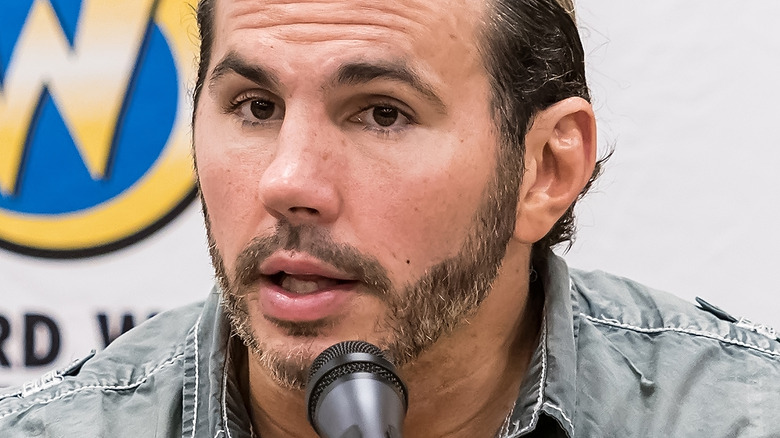 Since he found it difficult to pick just one, Hardy decided to mention a few notable matches, which included a championship bout against WWE Hall of Famer Rey Mysterio. "The one where I lost the Cruiserweight title to Rey Mysterio, and we headlined in Anaheim, [California]," Hardy recounted, recalling their June 2003 match. "That was very cool. It was a huge deal."
After 16 years, Matt Hardy reunited with his brother Jeff to challenge The Usos for the "SmackDown" Tag Team Championship. The Hardy Boyz emerged victorious and claimed the titles. However, their reign was short-lived as Jeff suffered a knee injury and they had to relinquish the gold after only three weeks. Nonetheless, Matt remains appreciative of their time as champions. "That was a significant moment for us too," he remarked. "It was very cool, particularly since it was during our final run there."
Matt Hardy: Legacy & Fond Memories on WWE SmackDown
Furthermore, Hardy also mentioned another pursuit for the tag team title, but this time, his partner was MVP. Despite being at odds with each other for several months, they managed to win the WWE Tag Team Championship in August 2007. For Hardy, the fact that they were previously opponents and their storyline made their victory even more significant.
In conclusion, Matt Hardy's time on "WWE SmackDown" has been filled with many memorable moments, both as a solo competitor and as a member of various tag teams. From championship matches to unforgettable feuds, Hardy has left his mark on the blue brand. His willingness to reflect on these moments is a testament to his passion for the sport and his commitment to the fans. It is clear that Hardy's legacy in WWE will continue to be remembered for years to come, thanks in large part to his contributions on "WWE SmackDown."
Let us know how you remember Matt Hardy in the comment section below.