Anything can happen in football: How Everton, RB Leipzig and Lille are defying the odds to make an impact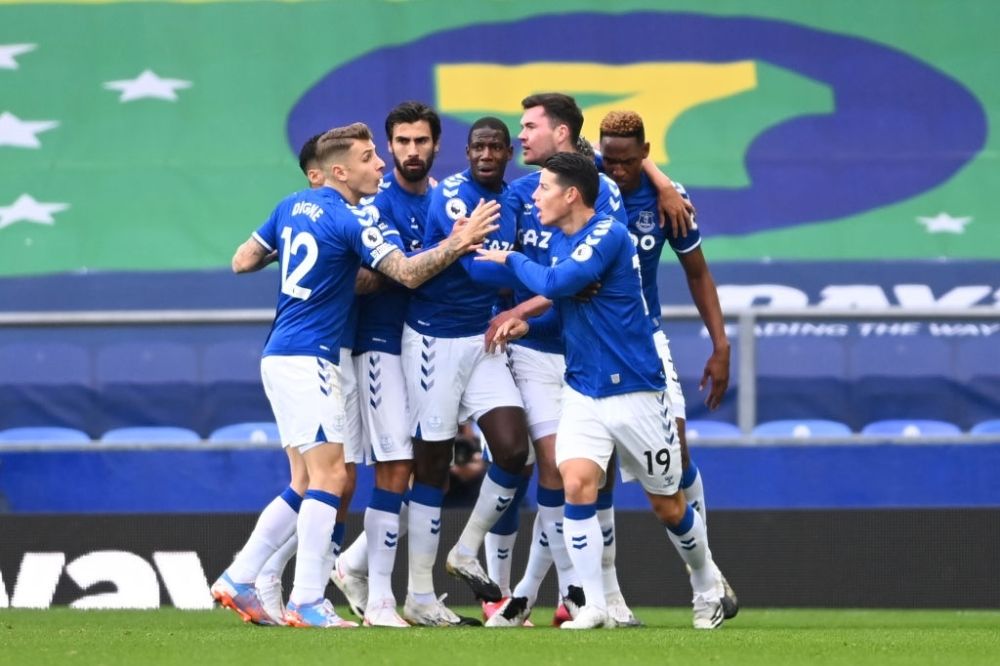 The phrase anything can happen in football is one that has been used to reflect the unpredictable nature of the game and throughout history, we have seen multiple evidence of this being the case.
From an unfancied West Germany upsetting heavy favorites Hungary to lift the 1954 World Cup, to Leicester City winning the 2016 Premier League, or Denmark surprising everyone to win the 1992 European Championship, football continues to serve us exciting and entertaining upsets.
The current era is not any different and there have been some teams punching above their weight to defy expectations and achieve unexpected results.
RB Leipzig, once again top of the table
In the Bundesliga, RB Leipzig currently leads the way, which is spectacular, considering that they only got promoted to the top-flight for the first time in 2016.
They continue to engage more traditional sides like Bayern Munich and Borussia Dortmund, while also performing creditably on the continent in the Champions League.
Their charge has been led by Emil Forsberg and Marcel Sabitzer and despite losing the services of Timo Werner to Chelsea, Julian Nagelsmann's side continues to punch above their weight.
Last season, they made it to the semifinal of the Champions League, impressively eliminating Tottenham and Atletico Madrid along the way and they have continued from where they left off this term.
They currently sit one point ahead of Bayern Munich on the league standing, with nine points picked up from a maximum 12, while they have also kicked off their Champions League campaign in impressive fashion, defeating Turkish champions Istanbul Basakseshir 2-0.
Leipzig have been grouped in what has been termed 'the group of death' but they will now enter their next fixtures against Manchester United and Paris Saint-Germain with renewed optimism, while they could also be on hand to take advantage of an unlikely slip-up by Bayern Munich in the Bundesliga race.
New king in the Premier League?
Elsewhere in England, Everton are also proving that anything can happen in football and the once fallen giants of Merseyside are slowly rising to claim their pride of place in the upper echelons of the Premier League
Under the management of the wily tactician Carlo Ancelotti, the Toffees are punching above their weight and currently top the standings in the English top-flight.
Led by the impressive Dominic Calvert-Lewin who can't stop scoring, Everton look primed as outsiders who could win a first Premier League title, while new signing James Rodriguez has been rejuvenated since competing his transfer from Real Madrid, showing why he is regarded as one of the best attacking midfielders in the world.
They won their first seven matches of the season, setting a record for their best start to a campaign in over a century.
With 13 points picked up from five matches, Ancelotti's side currently top the table, three points ahead of their city rivals Liverpool and six points ahead of Manchester City and they could profit from the extra rest afforded them by the absence of continental football.
For many years, Everton have flattered to deceive, spending huge on stellar names that failed to deliver properly but if they can continue with this trajectory, this could well be the year that they deliver on their promise.
AC Milan: The fallen giants once again finding their feet
To any football fan born in the last decade, the Italian league is nothing more than Juventus and 19 other teams battling to fill up the spots beneath them.
However, older followers of the game and those keen on history would know that the Serie A was once the most dominant and intensely competitive league in the world.
The Scudetto flag was proudly flown by AC Milan on the continent and as recently as 13 years ago, the Rossoneri were European champions.
At that point, Milan were replete with world-class players in virtually every position and they were undeniably the best team in the land.
However, the last few years have seen them fall on hard times and a once-proud side became also-rans in a league they once reigned supreme.
But the last one year has seen a positive tide blow at San Siro and AC Milan have started to claim their place at the summit of the game.
The seemingly omnipotent Zlatan Ibrahimovic seems to get better with age and shows no sign of stopping, despite turning 39 last month, while other like Rafael Leao, Simon Kjaer, Ante Rebic, have played their part under the excellent management of Stefano Pioli.
This season, AC Milan have started the campaign like a house on fire and currently lead the way on the Serie A table with maximum points picked from their four matches.
They have also been unshackled in attack, with a once limited frontline now scoring goals with reckless abandon.
Their 3-1 victory over Celtic in the Europa League meant that they have two or more goals in 10 consecutive matches for the first time in 56 years.
1964 – AC Milan have scored 2+ goals in 10 consecutive games in all competitions for their first time since December 1964, 56 years ago. Dynamite. #UEL #CelticMilan pic.twitter.com/dvLrjh6zws

— OptaPaolo (@OptaPaolo) October 22, 2020
For too long, Juventus have dominated the Italian football landscape unchallenged, the time might be ripe for a fallen giant to rise up from the ashes and soar to glory.
Will Lille disappoint PSG this season?
In France, Lille are also proving the mantra that anything can happen in football true, by defying odds and the riches of PSG to lead the way in Ligue 1.
Les Douges are currently unbeaten in seven league matches, with five wins and two draws picked up. Christopher Galtier's side have also been surprisingly expansive, with 13 goals scored, while they remain as compact in defense as ever and currently have the best defensive record in the league.
They also started their Europa League campaign impressively, dispatching Czech champions Sparta Prague 4-1 on their own turf.
Although it is to early in the campaign to start making projections, on evidence of the early-season displays, indeed, anything can happen in football.