Kurt Angle is indeed a legendary figure in WWE history, known for his incredible in-ring skills and achievements during his time with the company. The Olympic Gold Medalist made his WWE debut March 7, 1999 episode of Sunday Night Heat, where he took part in a duel with Tiger Ali Singh.
However, despite his numerous accolades and success, Angle has humbly addressed the title of "greatest of all time" and shed light on his perspective. It seems like he doesn't regret his decision to join TNA either.
Kurt Angle asserts his belief regarding "greatest of all time" title
During his podcast, "The Kurt Angle Show," the WWE Hall of Famer was asked by fans during the "Ask Kurt Angle Anything" segment what he would change if he had the chance to do everything over again in his career. Angle's response was reflective and showed his desire to make one particular aspect of his career even more significant, further solidifying his status as one of the greatest of all time in WWE. He said:
"This is a really, really difficult question because I don't regret going to TNA. I absolutely love TNA. I'd love my 11 years there. You know, I probably would have stayed if the money didn't run out, but I knew it was my time to go back to WWE and I wanted to finish my career where I started.
"But when I go back, the one thing I would love to change is I wish I didn't get injured so much because that's what caused my painkiller problem and then my painkiller problem caused me to leave the WWE because I felt like if I wasn't gonna leave, I was gonna end up doing something pretty bad, which was an overdose on painkillers.
"So I thought it was right for me to leave, but if I wouldn't have left the WWE and I would have wrestled there 20 straight years, I really believe to this day I'd be the greatest of all time."
So it seems like Angle actually wanted to wrestle with WWE for 20 straight years, but due to his painkiller overdose, he was forced to leave the Stamford-based promotion. If he hadn't left WWE at that time, he could have had a straight 20-year career, and this is the thing that Angle really wanted to do.
Vince McMahon released Angle following altercation in 2006
In 2006, Kurt Angle found himself in a challenging situation. After suffering multiple neck injuries, the Olympic hero became dependent on prescription drugs to cope with the pain and continue wrestling. Unfortunately, this led to Angle's life spiraling out of control. His excessive drug consumption and bad habits eventually resulted in his release from WWE.
Vince McMahon, furious with Angle's behavior, made the difficult decision to let him go. Angle later revealed in an interview that Vince was visibly angry and close to his face during this time.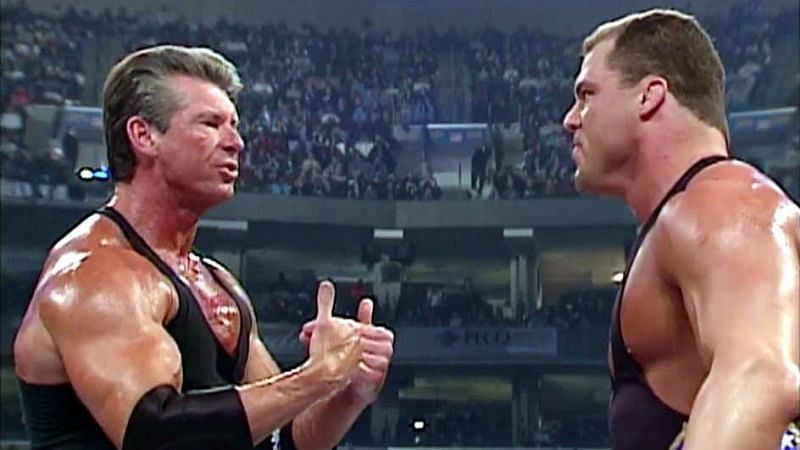 Subsequently, Kurt Angle joined TNA, a rival promotion, before eventually returning to WWE. The whole story behind his release serves as evidence that Vince McMahon was displeased with Angle's behavior during that period.
Where would you rank Kurt Angle in the list of WWE's all-time greats? Make sure to let us know your opinions in the comments section.