Logan Paul, who is scheduled to fight Jiu-Jitsu expert Dillon Danis in a 6-round boxing match, has posted photos on X, together with the YouTube sensation MrBeast. As the photos suggest, it seems like they were training together.
Paul and Danis are scheduled to fight in Manchester Arena in England on 14 October 2023 in the undercard of KSI vs Tommy Fury. Tommy, the younger brother of Tyson Fury recently defeated Logan's younger brother, Jake Paul, in a boxing match. On the other hand, KSI had defeated Logan Paul in KSI's only professional boxing match.
Logan Paul works out with Mr. Beast and flaunts his incredible body
Paul was seen flaunting his muscular body along with MrBeast in a recent X (formerly Twitter) post. The caption of the post was titled 'Good rounds with Mr. Beast'. The post shows a visibly tired Mr. Beast and Paul in sparring gloves.
Good rounds with @MrBeast pic.twitter.com/b0iAoKRfns

— Logan Paul (@LoganPaul) August 21, 2023
Paul's next professional boxing fight against Dillon Danis has a personal feud due to Danis posting about Paul's fiancee, Nina Agdal in a derogatory manner on social media.
MrBeast, whose real name is Jimmy Donaldson, is a world-famous philanthropist and YouTuber. The 24-year-old Donaldson is the highest-paid and the most-subscribed YouTuber with an estimated net worth of over 500 million US Dollars. Paul, along with his younger brother Jake too are acclaimed YouTubers. With MrBeast on his side, Paul might have more people cheering for him to beat Danis.
MrBeast also posted the training picture on X with the caption of 'training for the undercard of Elon Musk vs Zuckerberg' card. This might be because of the possibility of MrBeast fighting another YouTuber in the proposed Elon Musk vs Mark Zuckerberg fight card. However, no clear announcement regarding any of the aforementioned fights has been made.
Training for the @elonmusk vs Zuckerberg undercard pic.twitter.com/zu6QIifLDM

— MrBeast (@MrBeast) August 21, 2023
With Logan looking shredded and Danis out of active competition for years, there is a high chance that Logan knocks out Danis. Danis has never competed in boxing and is known for his prowess in Jiu-Jitsu. Logan, on the other hand, is active in the WWE professional wrestling circuit.
Dillon Danis continues to troll Logan Paul and his fiancée
Dillon Danis wasted no time trolling Logan Paul by posting about the past affairs of his fiancee, Nina Agdal. Danis immediately commented on Paul's post with Mr. Beast about Agdal. With Danis on social media without any filter, the fight that happens will be personal. Danis was trolled by Jake Paul a couple of years back by commenting about Danis' then-girlfriend.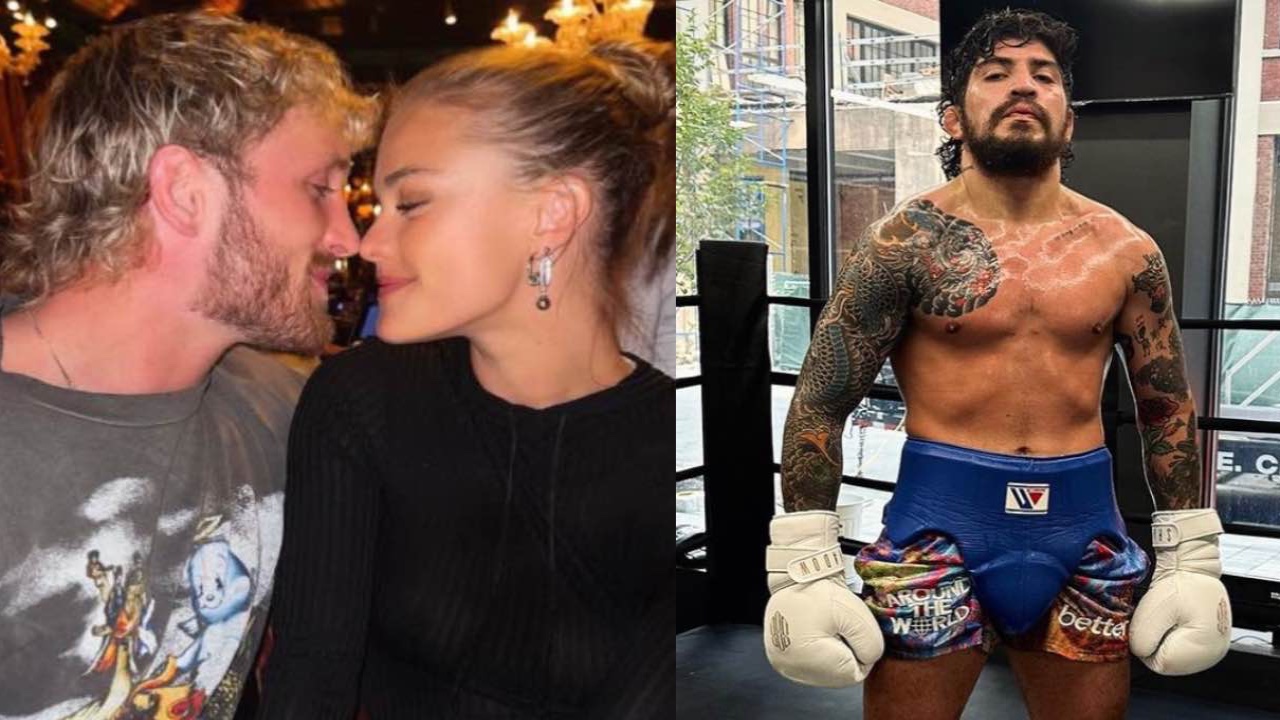 Danis has made it a habit of posting about Nina Agdal, her past relationships, and the things she had done. Danis was on 'Fullsend Podcast' recently and went full on his plans of trolling Logan Paul. Some sections of the media have been very critical of Danis slut shaming Nina Agdal. Nevertheless, Danis continues to do so.
Nina Agdal has had high-profile romantic relationships in the past, of which the most famous was with Leonardo DiCaprio. Danis' main hobby is finding affectionate pictures of Agdal with her past boyfriends and posting them on social media. Danis has also posted on record saying that he has not posted something regarding Agdal which would get him cancelled.
More rounds than Nina's exes? https://t.co/wh4CYUapWM

— Dillon Danis (@dillondanis) August 22, 2023
— Dillon Danis (@dillondanis) August 22, 2023
— Dillon Danis (@dillondanis) August 22, 2023
Do you think what Danis is doing is right? Will Logan KO Danis? Do leave your thoughts and opinions in the comments below.