New Orleans Saints veteran safety Tyrann Mathieu has heaped praise on Baltimore Ravens' star quarterback Lamar Jackson, labeling him as the "most elusive" player in the NFL.
After the end of a dramatic and lengthy trade saga, Jackson finally decided to keep himself donned in the Ravens' jersey by agreeing to a five-year, $260 million contract in the first week of May, making him the highest-paid player in national football history.
Saints' Tyrann Mathieu listed Lamar Jackson as the most elusive player in NFL
Damien Scott posed an interesting question on Twitter asking fans who they see as the top 4 most "elusive" NFL players of all time and added three names to the list including Barry Sanders, Gale Sayers, and Marshall Faulk, leaving the final name in the hands of the netizens.
Top 4 most "elusive" NFL players of all time.

1, Barry Sanders
2, Gale Sayers
3, Marshall Faulk
4, ?

Who you you put at number 4?

— Damien Scott (@MadScientistFF) May 18, 2023
The Saints star Mathieu snatched the chance to rave about Baltimore QB Lamar Jackson and retweeted the question with the answer from his side saying, "Lamar Jackson. Final answer."
Lamar Jackson. Final answer https://t.co/Tz9UnWZNuA

— Tyrann Mathieu (@Mathieu_Era) May 18, 2023
The Detroit Lions legend Barry Sanders will undoubtedly top most football fan's favorite list as no one in the NFL was more elusive than him who finished his career with 15,269 total rushing yards and 99 rushing TDs as well as made the Pro Bowl every single season of his 10-year NFL career.
The ex-Houston Texans RB Arian Foster earlier labeled Barry as the GOAT of the NFL over Tom Brady saying, "Like, the greatest in my opinion … the greatest player of all time is Barry Sanders. There's not a greater athlete that played this game. He didn't sniff the playoffs."
The Hall of Famer Gale Sayers also moonlighted as a hero in his relatively short tenure in the NFL with 9,435 combined net yards, 4,956 yards rushing, and 336 points scored, earning him All-NFL honors five straight years.
Former Indianapolis Colts star running back Marshall Faulk was the first player in league history to gain 2,000 yards in four consecutive seasons ranging from 1998 to 2001 and inked a series of records in his career.
How does Jackson stand in the most elusive player's list alongside others?
The 6-foot-2 Jackson holds the records of being the first football player to pass for more than 250 yards and rush for 120 yards in a single game as well as multiple records like being the only QB in the league to rush for more than 60 yards in seven consecutive games, the first player to have 5 touchdowns in a Monday Night Football debut and much more.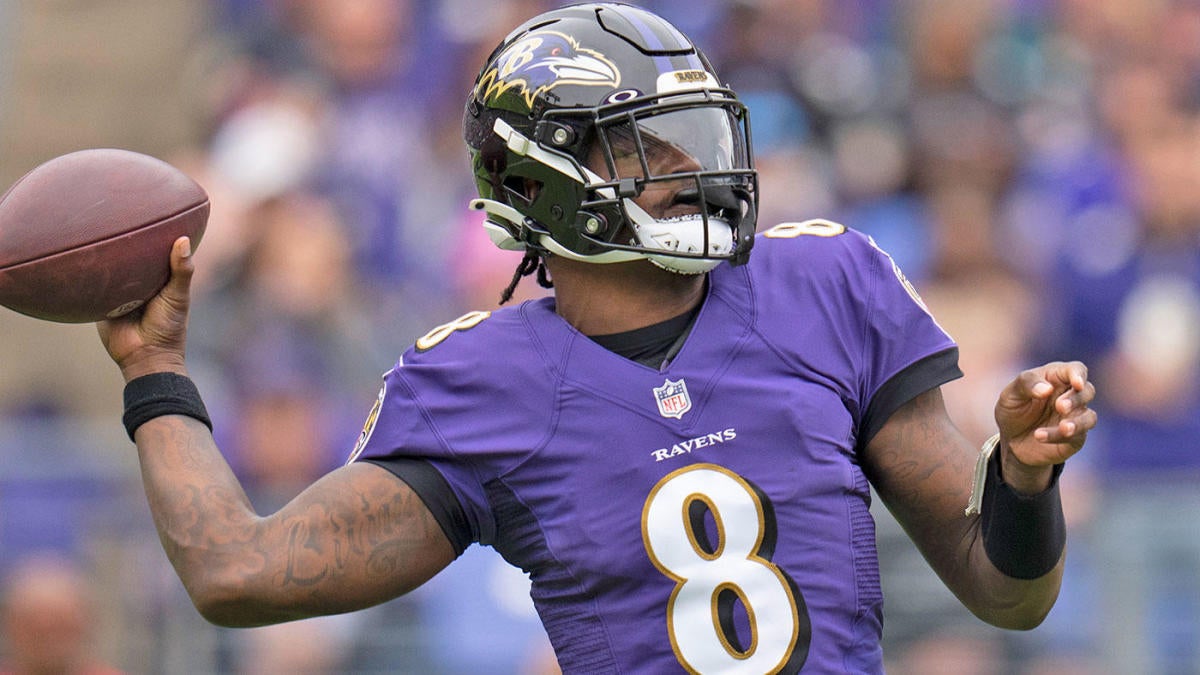 His dynamic playing style, often described as a dual-threat quarterback, led to numerous highlight-reel plays and helped the Ravens achieve success in recent years, hence, having his names called with the past great football figures is not surprising.
The 2019 NFL MVP's remarkable athleticism and playmaking ability continue to captivate fans and experts alike, solidifying his position as one of the most exciting and elusive players in the league today.
Let us know your thoughts on Tyrann Mathieu's praise for Lamar Jackson. Do you agree with Mathieu's assessment? How would you rank Jackson among other veteran players like Barry Sanders, Gale Sayers, and Marshall Faulk?