Many popular faces fade away from the wall of memory with time. But this doesn't go with the former professional boxer Oscar De La Hoya who is still working in both behind and in front of the camera with the aim to promote the sport.
His electrifying performance on the ring brought him the name 'The Golden Boy'. And now he is making headlines again but not for boxing but for this lovey-dovey tale with his girlfriend.
So, let's have a look at the ins and outs of Oscar De La Hoya Girlfriend Holly Sonders, and their enchanting romance.
Who is Oscar De La Hoya Girlfriend Holly Sonders?
Holly Sonders, who was born on March 3, 1987, is a fitness model and Fox Golf Channel sports presenter. She used to play competitive college golf before turning to punditry. But now the former golf is in the limelight because her relation with the famous boxer.
Oscar De La Hoya Girlfriend Holly Sonders Profession
The lady is currently a sports reporter. She always had a great attraction for the media. And for that reason, after completing her graduation, she embarked on fulfilling her dream of becoming a reporter.
Holly Sonders is doing exceptionally well in her profession. And after her encounter with Oscar, her popularity is touching the sky and every day new opportunities are knocking at her door.
Holly Sonders Net Worth
Sonders is estimated to have a net worth of $6.5 million as of 2023, with annual earnings of roughly $2 million.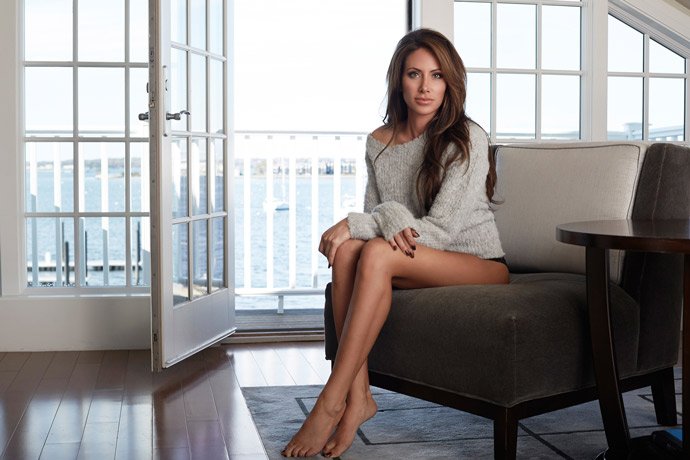 She also covers brand sponsorships, as she was recently reported with the Cobra Puma Golf, which also acts as a source of income for her. Holly is also a yoga instructor at the moment.
How they got together?
The couple's romance started in an unexpected way but bloomed satisfactorily with time.
So, dig out more information regarding how they met and fell for each other.
The romantic moment came in June 2021. At a party where people connected with media were present, they found each other. De La Hoya is a famous personality and is known to all everywhere he goes.
The lady herself is a big fan of the athlete and when she saw him there, she couldn't resist the wish of having a conversation with him. Holly's killer beauty drew the boxer instantly with his first glance toward her.
And this is the beginning of their romantic encounter.
How they became romantic partners?
After two months of the first meeting, Oscar called her up and asked her out for a dinner. However, the sweet woman was unaware of the fact that it was going to be her first date with him.
Since then, they are together and don't hide their romance from the public. They have made many appearances at big events together and look very happy to be with each other.
As per information attained by our sources, they are planning to get hitched soon.
Did Oscar De La Hoya date someone before hooking up Holly Sonders?
The promoter was in relationships before Holly Sonders. He had an affair with his love partner Shanna Moakler, an American actress and model for a couple of years.
Furthermore, he was a married man for entire seventeen years with his ex-wife Millie Correctjer. Oscar tied the knot with her in 2001 and got divorced in 2018.
After his divorce from the lady, he got linked up with Holly Sonders.
Holly Sonders relation with her boyfriend
The lovely lady has a tattoo of her boyfriend on her back which she shows off to the world openly. When she first reveals the tattoo, her fans were surprised and many appreciated her love for the former boxer.
She shares her thought through her social media that she has immense respect for her future husband. Observing her actions towards Oscar De La Hoya, it seems she loves him passionately.