Tom Brady had a rather dull low-standard season, which ended with the Tampa Bay Buccaneers' wild-card round loss to the Dallas Cowboys.
With a broken heart and mental deterioration, any person would want the warmth of family and loved ones. However, the 45-year-old man doesn't have that luxury either, as his divorce almost pushed him over the edge.
The only thing he considered sensible was going on a hangout with a friend, David Beckham, in a father-daughter joint pizza night that recently caught the eyes of fans from both sides of the Atlantic.
What did David Beckham and Tom Brady do?
The soccer heartthrob David Beckham recently invited Brady on a pizza night outing with their daughter. Beckham's Harper Seven and Brady's Vivian were also in the photo that the soccer star shared in his Instagram stories.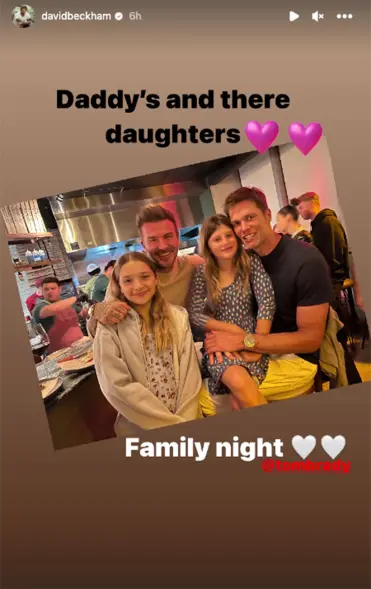 David is the owner of MLS team Inter Miami and is currently a resident of Miami, which is not very far from Tampa-Brady's current address. This hangout clearly brought solace to the quarterback's mind after a horrific season.
We at SportsZion believe it is a significant step from the free kick specialist as a Miami Dolphins fan. Brady is currently a free agent after his contract with the Bucs expired after the elimination.
The friendship between these two stars of football goes a little bit further. Previously, on Beckham's birthday, he posted a wish on Instagram, writing, "Happy birthday old man."
What is your opinion on Tom Brady's joining the Miami Dolphins next season? Can David Beckham play a vital role in the move? or should the legendary QB just retire after a long and tiring career? You can share your thoughts with us.